You read that right – we are now offering live in-person weekly outdoor music classes this summer at various locations around Ottawa! 
As Ontario enters into the next phase of the COVID-19 reopening plan we are thrilled to be offering outdoor music classes for children ages 0-5yrs. These 30 minute classes will ensure participant safety by offering a physically-distanced, contact-free, participatory group music experience for children and parents. 
Our classes will all be outdoors for Summer 2021, save for any rain days, when we will switch to Zoom. We will make this call early in the morning and send out an email to all class participants to let them know.  If you prefer, you can instead cancel that week's class and use your makeup token to attend another in-person class later in the session. 
What Do I Need To Bring?  
Something to sit on

: blanket, towel, or yoga mat will do the trick 

Water and Sunscreen

: Be sure to prepare for the weather and dress accordingly

Instruments: In order to ensure the safety of all participants we will not be bringing our instruments to share this summer. Feel free to bring an instrument or two from home to use during the jam session at the end of class.
What COVID-19 Protocols Are In Place?
Attendance

will be taken every class, of children and adults, so we know who has been present.

Please do not bring any child to class who has not been enrolled into the session.

  Class sizes are limited and we cannot have siblings or friends joining the class who have not been accounted for in our system.  
Physical distancing

. Families will sit 2m apart from others (bubbled groups are welcome to sit together)
Washroom access

will be available at all our outdoor locations, though going at home before or after class when possible will help keep all participants safe. 
No sharing of instruments.

As previously mentioned, we will not be bringing instruments to share. Families are invited to bring their own instruments along for the jam session at the end of class (

please do not take instruments out until instructed to do so

).  No instruments at home? No problem! For more homemade instrument ideas

click here

.

You may wear a mask or face covering if you want. Since we're outdoors, this is not required, but please do what makes you the most comfortable.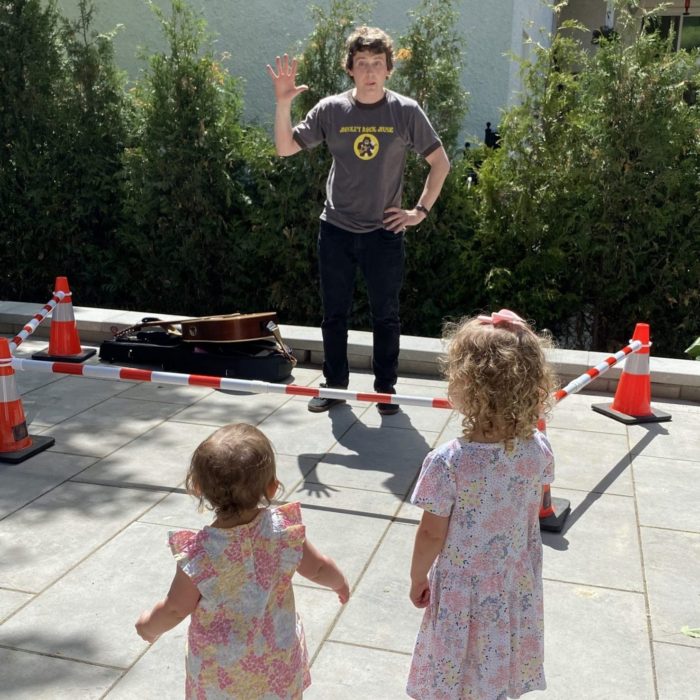 Sickness Policy
We ask that you stay home if you or your child is not feeling well. Monkey Rock Music offers a generous makeup policy so that you can make the most of your enrolment.
If you, your child, or anyone in your household receives a positive COVID test, please let us know as soon as possible. We will inform your classmates of possible exposure and run the next two weeks of classes on Zoom.
Have any further questions? Please reach out to our admin team at 1 877 466 5972 (1 877 4MNKYRCK) or info@monkeyrockmusic.com.