The Results Are In
We regularly poll our currently enrolled customers to gauge how they are feeling about COVID safety measures to help inform our decisions regarding protocols. We also consult directly with physicians to determine the safest course of action.
Summary
Based on our survey results, we will be continuing to take the current precautions in our classes:
Masks will be required by all adults, optional for children
All adults must be vaccinated to attend
Proof of vaccination will be checked once – after this, proof and ID need not been shown
We will do our best to continue spacing everyone in larger rooms
NEW! Passing around the instrument of the week (Beginning in November)
Based on our survey results, we will be bringing back a favourite of our pre-pandemic classes. After demonstrating the instrument of the week, the instructor will pass it around the group for everyone to try. Hand sanitizer will be available in the room.

Though nearly half are okay with us dropping the proof of vaccination requirement, a significant 26% would not re-enrol if we do. That's a huge hit for us to take – and vaccines remain the number one way to prevent the spread of COVID-19.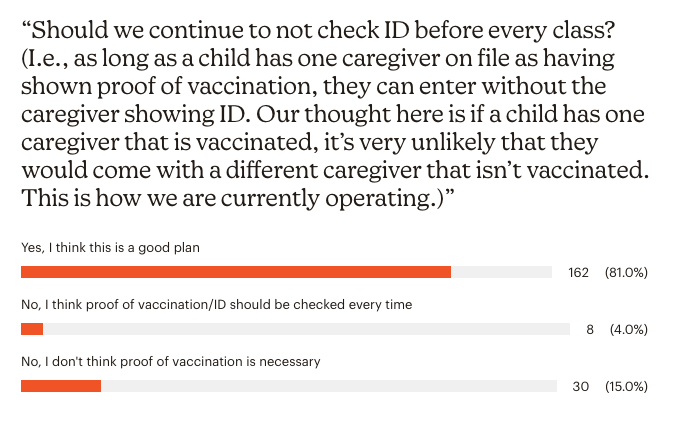 This system is working well, and the vast majority of our customers are comfortable with it. We will continue to require proof of vaccination, but not check every time.

This is the most contentious issue, as many people aren't wearing masks much at all anymore. However, again you can see that 30% of our clientele would not re-enrol if we drop the requirement – a loss of revenue we cannot afford.
Speaking with medical professionals, we've been informed that every individual that wears a mask in a social situation decreases the odds of the virus spreading.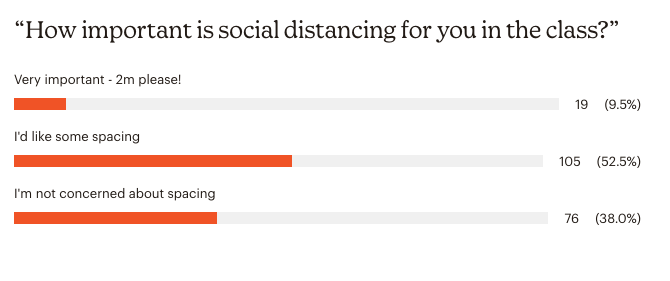 The spacing issue is becoming a bit tricky.
Pre-pandemic, we preferred smaller rooms with less space for kids to run around – this helps keep them focused. When we started up again last fall, we asked our venues to move us to their largest room – which they did, but agreed to continue charging us the rates for the smaller rooms. This 'grace period' is ending with most of our venues, so to keep costs down (and enrolment fees as well) we're having to move back to smaller rooms.
This is the reason we're still only allowing one adult per child – things just get too close if a significant number of kids come with two adults.
Many comments we received from our survey respondents indicated they would be happy to drop masks if there was a bit more room for spacing. There isn't, so for now we'll stick with the masks.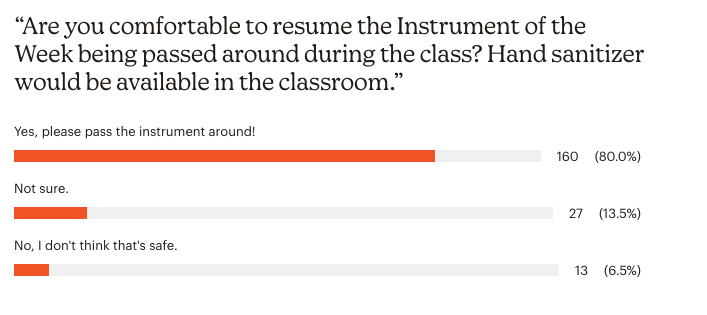 YAY! The instrument of the week is a highlight of the class, and we're excited that most people are keen to get their hands on it again. Those who are not comfortable handling the instrument can opt out, though I appreciate the difficulties some kids might have understanding. Instructors will do their best to work with parents to facilitate.